Built to deliver a better experience for providers and patients.
Expert systems
Extend the reach of your care team by allowing physicians to focus on patients, not paperwork
Optimized workflows
Guided by clinicians and more than 6 years of experience operating a 24/7, on-demand virtual primary care clinic
Automation and decision support
Reduce the administrative burden and cognitive load on clinicians
Simple patient app
Discreet and easy to use—one tap starts a text-based visit
Quality and expertise from more than 6 years operating our own virtual clinic:
3 million+

members

93%

resolution rate

More than 50%

reduction in active clinician time since technology launched

4.8 average star

rating from more than 37,000 Apple app store reviews

Let 98point6 provide the digital infrastructure to power your hybrid care strategy.
Enable your next-generation
hybrid care strategy
Health systems face a perfect storm of shifting consumer demand, changing economics and increased competition from new entrants. A next-generation ambulatory care strategy will help systems leverage their community presence and existing physical footprint to capture more virtual care revenue. It starts with augmenting your care delivery model with proven technology that provides consumer-centric digital services.
Digital expansion of urgent care, retail health and primary care services
On-demand, app-based nurse triage
Virtual extension of behavioral health services
Services to sell directly to employers
Subscription-based virtual primary care
Designed by
clinicians

,
for

clinicians

.

A web-based Clinician Console for conducting efficient, high-quality visits that includes:
Virtual waiting room
Automated and manual case assignment
Automated medical interview and case presentation
Automated practice standards
Patient chart
EMR data integration with HL7
Patient-clinician chat and video
Chat suggestions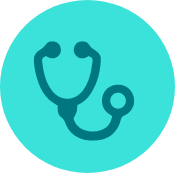 Diagnosis and treatment
Automated and manual Care Plans
Medical recommendation letters
Clinical documentation
Video to establish care (VtEC)
Your brand, our technology—a cohesive patient experience
98point6 Technologies offers a convenient clinic entry point, configurable to reflect your brand and deliver a patient-centered experience augmented by artificial intelligence and machine learning. Exceptionally easy to onboard and backed by extensive user research, patients can start a visit from anywhere they have phone service, leading to unprecedented utilization—8x higher than traditional telemedicine.
Patients start a visit with one tap
Our simple to use app can be configured with your branding so patients always access care from the same trusted healthcare provider.
Automated patient intake
The 98point6 Automated Assistant conducts intake interviews using natural language so the patient can freely describe their condition.
Clinician care delivery
Clinician reviews intake information, then joins the visit and completes the interview, diagnosis and Care Plan.
After the visit
Patients can access Care Plans, prescriptions, visit history and transcripts, lab results and more any time in the app.
Schedule a demo
If you have a medical concern, please contact the support team. This form submission will not be sent to a provider or medical professional. Do not enter any healthcare information into this contact form.